Karma Kagyu Norbu Pema Chöling
Centre for Tibetan Buddhism
~
In the Karma Kagyu Tradition
~
---
Lama Pema Dorje
Lama Pema Dorje was from the founding of the centre until 2007 its resident lama.
A Short Biography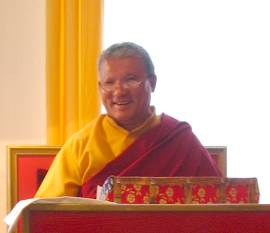 Lama Pema Dorje was born in Kham/Eastern Tibet in 1939. He received the largest part of his spiritual education in Tibet. In Indian exile he finished it by the traditional 3-year retreat in Kalu Rinpoche's Retreat Center in Sonada under the guidance of Bokar Rinpoche. Sent to the West by his root lama, the 16th Karmapa Rangjung Rigpe Dorje, he lived and taught in Germany from 1984. During this time Lamala has benefitted many people, especially in Berlin. Lama Pema Dorje is known for his humorous and practical teachings as well as his loving and kind spirit.
---
Last modified on Sun Jul 23 2017.
All contents of this website is Copyright © 2005-2020 Karma Kagyu Norbu Pema Chöling e.V. Berlin, Germany.